DELF SCOLAIRE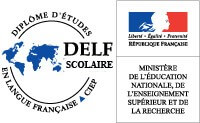 Since 1 September 2005, the National Commission for DELF and DALF has been offering a version of DELF for teenagers in state and private schools.
2021 EXAM DATE: Saturday August 28
Price:
A1-A2: $70
B1-B2: $85
Each diploma corresponds to one of the four lower levels of the Common European Framework of Reference for Languages. At each level, a series of examinations evaluates the four communication skills: listening, speaking, reading and writing.
Special features
The qualification awarded is the "Diplôme d'Etudes en Langue Française" [Diploma in French language studies]. There is no indication on the certificate of the fact that it was the DELF for schools that was taken.
The structure of the examinations is the same as that of the

standard version of DELF

. Only the topics and the materials are different: these are adapted for schoolchildren.
General conditions
The introduction of DELF for schools is subject to an agreement being signed by the local education authorities and the French embassy.
DELF for schools is open to all young people of nationalities other than French who attend a school authorised to offer it as part of the abovementioned agreement.
Examination sessions are organised in schools each year with the endorsement of the National Commission for DELF and DALF.
Registration takes place in the schools.
The fees are set by the Department for cooperation and cultural affairs (SCAC) of the French embassy in collaboration with the local education authorities.